Always on the lookout for interesting new start-ups in the fashion world, especially those that are doing something to shake up the industry a bit,  I was looking forward to the opportunity of speaking with Anthony Chan from the new fashion start-up Sketch Street, a brand that is rethinking the fashion cycle around the community.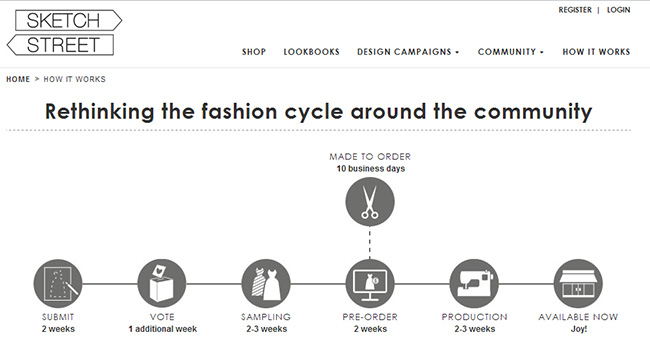 StUF:  How did Sketch Street begin?
AC: The idea really stemmed from an ordinary fashion lover's desire to buy high-quality, unique designs without burning big holes in one's pocket. I love high-street, love their trendy pieces and love them being affordable to young people like me. However, I slowly got frustrated by seeing the same fashion pieces, in the same chains across the globe.
Fashion is a statement of personal taste, a showcase of individual style. Of course, for some privileged individuals, they can afford to buy customized clothes, or high-end designer limited edition clothes. But I believe that fashion should be enjoyed by ALL. It is a simple pursuit of beauty. So why can't we have unique designs that are high quality and yet affordable? We definitely should – that is what we are trying to live up to at Sketch Street.
A second important propelling force behind the Sketch Street idea is to disrupt the hierarchical nature of the fashion world. For emerging designers, it can take years before they see their own designs been made and sold. Worse still, many of them may never see that day.  The film "Eleven Minutes", depicts well the difficulties faced by young designers such as Jay McCarroll (winner of Project Runway). The difficulties faced by emerging talents are at best understated!
We want to establish ourselves as a platform, a jumping board for these [emerging] talents. We finance the sampling and the production. We want to allow these designers to focus on what they do the best – design. For designers, participating in Sketch Street is a sure-win with no downside risk.
Powered by these two beliefs – bringing unique and affordable designs to fashion lovers + supporting emerging talents to produce great designs, Sketch Street was born.
 To read the rest (trust me there's lots more awesomeness), check out my full interview on Startup Fashion !